The early bird catches the worm!
Visitors to HOMEDEC will receive a door gift, 𝒍𝒊𝒎𝒊𝒕𝒆𝒅 𝒕𝒐 𝒐𝒏𝒆 (𝟏) 𝒈𝒊𝒇𝒕 𝒑𝒆𝒓 𝒓𝒆𝒈𝒊𝒔𝒕𝒓𝒂𝒏𝒕, courtesy of our sponsors and partners at HOMEDEC on a first come first served basis, while stocks last daily.
Don't miss out on this chance to grab some goodies!
The clock is ticking, and the home of your dreams is just around the corner. Register now for a world of possibilities at HOMEDEC, and score some exciting door-gifts!
Follow us on our social media pages to get the latest update of Door Gift event:
One (1) packet of 400g rice by Jasmine Food Corporation to help you "grain" some inspiration for your home.
One (1) KF94 facial mask by Durio PPE Sdn. Bhd. to keep you "covered" in style.
One (1) 250ml of bottle of water to "quench" your thirst for design by Carte Kitchen Sdn. Bhd.
One (1) non-woven and 20ml hand sanitizer by Solaroo to help keep your hand "sanitised" while exploring amazing products.
One (1) non-woven bag and succulent plant by Solaroo to "grow" your home décor.
One (1) jute bag with humidifier by Dunlopillo (Malaysia) Sdn. Bhd. to "steam" up your living space.
One (1) jute bag with a cup by Dunlopillo (Malaysia) Sdn. Bhd. to add a touch of "class" to your home.
One (1) RM100 cash voucher by Panasonic Malaysia Sdn. Bhd. to help you "cash" in on your dream home.
Other events & activities at HOMEDEC Penang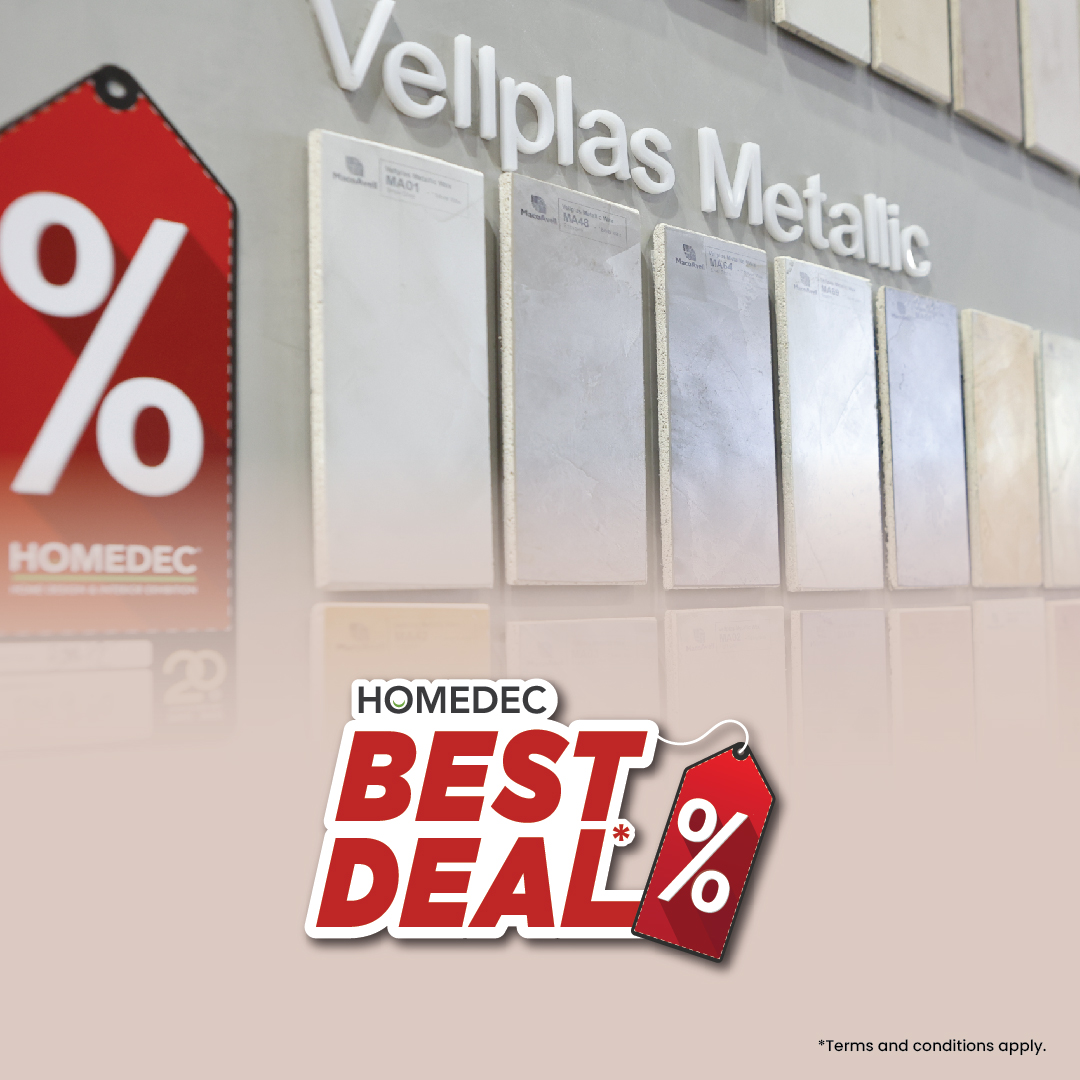 Get ready to snag some incredible deals at HOMEDEC! With our Best Deals promotion, you can shop for your home without breaking the bank.

Our participating exhibitors are offering amazing discounts on a range of items that you won't find anywhere else. It's a steal of a deal that you won't want to miss out on. So, come on and take advantage of the best deals in town!
Get ready to stir up some fun in the kitchen with HOMEDEC's Live Kitchen! Celebrating 20 years of excellence, our event features celebrity chefs and a unique kitchen design concept that will leave you hungry for more.

Whether you're a master cook or just getting started, our light-hearted activities with everyday ingredients and appliances will help you elevate your skills and take your cooking game to the next level. Don't miss out on this deliciously delightful experience!