5 Kitchen layouts tips to consider for your next renovation
Did you know that your kitchen layout can make or break your cooking experience?
Before you take on your next renovation project, make sure you understand the different types of kitchen layouts that could transform your home!
Make a statement out of your large kitchen space with a U-shaped kitchen.
To achieve an ergonomically sound design, consider adding a specialist kitchen corner solution to utilise the otherwise dead space within corner cabinets.
Add mosaic tiles as a kitchen backsplash to liven up the space.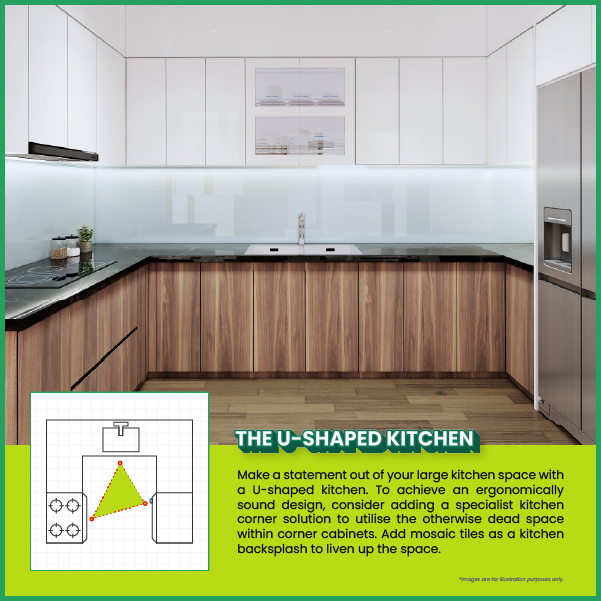 Maximise storage space by adding wall-hung cabinets in your small L-shaped kitchen.
For larger kitchens, a multi-purpose kitchen is possible by adding a dining table or an island.
You can never have too much storage, so take advantage of upper and lower cabinets.
Utilise the G section of your kitchen for additional workspace, storage space, and to lodge appliances.
To maximise the workspace and turn it into a multi-functional area, place wall-hung cabinets on the walls to free up space on the other sides.
Consider using large-sized floor tiles for an elegant look.
The Corridor/Galley Kitchen
Ideal for smaller kitchens, opt for open wall shelves on one side for extra storage without closing up the space with wall cabinets.
Consider having a window at the end of the galley as it can make a room appear more spacious. 
Avoid floating cabinets as they make cleaning the floor difficult and could reduce the space in your galley kitchen.
The Single Wall/Pullman Kitchen
Ideal for narrow rooms, the single-wall kitchen layout takes up less space compared to other layouts.
Consider adding task and decorative lighting to expand the small space visually.
Choose the perfect layout for your kitchen and make the most out of your space!
At HOMEDEC, we provide great ideas and connect homeowners with established brands offering high-quality renovation, design, fixtures, furnishings, products, and all the little things that count.
Let us help you live your dream and turn your safe haven into reality – all under one roof.
Don't forget to visit HOMEDEC Penang or HOMEDEC Kuala Lumpur for more inspirations!